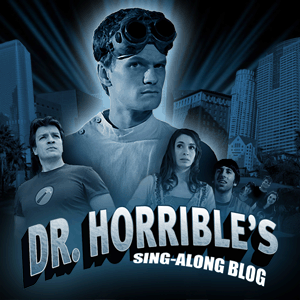 I have to admit that I have jumped on the Dr. Horrible bandwagon a bit late compared to others, but this was due to my skepticism for anything that was not Buffy or Angel. However, after watching the first three episodes of Dollhouse I learned that Joss Whedon could never do wrong and decided to give it a try.
Once again Joss does not disappoint. Dr. Horrible's Sing-Along Blog is full of the dark humor that Joss is known for. The other appealing aspect of Dr. Horrible is the fact that it contains musical moments which Joss is amazing at. The songs are just as addicting as those from Buffy: Once More With Feeling due to their catchy tunes and relevant meanings. I have found myself singing them for the past four days at the most random times.
The main character Dr. Horrible, played by Neil Patrick Harris (who knew he could sing?), is desperatly trying to get into the Evil League of Evil while trying to capture the attention of his love Penny, played by Felicia Day. Both of his plans are thwarted by his arch-nemesis Captain Hammer, played by Nathan Fillion.
The show was first aired online at hulu.com on July 15, 2008. It was originally aired in three separate acts released two days apart from each other. Each act is only about 14 minuets long, totaling the series to about 45 minuets, which seems impossible while you are watching it because the story is so well developed.
I highly recommend anyone who loves Buffy, any of Joss's other work, or musicals to watch this blog as soon as possible. It can be found on its original website
hulu.com
-jessica.marie